Our Building and Remodeling Services: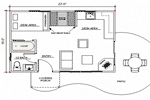 Design & Drafting
We are proud to offer in-house design and drafting services. We work collaboratively with customers to incorporate their ideas and needs with our vision and experience. Our customers save time, money and headaches by utilizing our design services, which include the following:
Creativity:

We think "outside the box" when considering the practical needs of the customer as well as their aesthetic preferences. We particularly enjoy making small spaces work more effectively for clients.

Conceptual Drawings/Tours:

Interior elevations of cabinets, design details and color schemes are available. Three dimensional tours give the customer visual confirmation of the project.

Accessibility:

Universal design elements are utilized to provide barrier-free access to those with disabilities as well as providing solutions that help everyone.

Changes During Construction:

We are able to facilitate design changes more efficiently and cost-effectively than is possible with outside drafts people providing paperwork.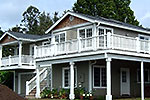 Custom Building
New structures are particularly rewarding to build, because we are able to employ a holistic approach when designing and building a project from the ground up. Projects are tailored to meet the unique needs and desires of each client.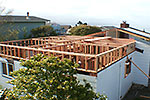 Remodels/Additions
Remodeling and having to work within the confines of an existing structure, is the most challenging aspect of construction. Because we specialize in all aspects of remodeling, we have developed practices to efficiently handle the many details of such projects. We are proud of our many accomplishments in this area.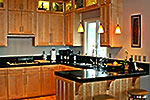 Kitchens & Baths
Of all the projects homeowners can undertake, kitchen and bath remodels offer the most return for their financial investment, namely an increase in property/resale value. We have expert design solutions for these areas in your home.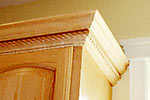 Trim & Millwork
We are proud to offer in-house woodwork and cabinetry. It is the design and details of your project, whether in wood or in other materials, that create a space which is comfortable and unique.
Planning & Permitting
The headaches and hassles that the average homeowner experiences in attempting to begin a home improvement project can be discouraging. Let us manage the details and the challenges of coordinating with the multiple agencies that have a say in the planning and development of your project. Our management teams work with State, County and City agencies such as:
Building & Planning Departments
Public Works Department
Environmental & Health Services
Design Review Committees
Fire Protection Districts
Pre-construction Commercial Building Surveys
Material Testing for Commercial TI's
California Title 24 Energy Calculations
California Costal Commission
Utility Agencies
Engineering
Land Surveyors